What is Paper Mâché? A deeper dive than your typical DIY Balloon Piñata
Updated: Nov 8, 2022
Paper Mache is derived from the French term "Papier-mâché", the literal translation of which is "chewed paper". Despite its French name, the technique originated in China During the Han Dynasty. Today we are going to explore paper mache, its history, materials, and how it is being used by contemporary artists.
Origins
Paper mache began in China, with the first examples dating back to the Han Dynasty (BC 202 – AD 220). They used it to make helmets and coated the paper mache in many layers of lacquer to toughen it. It was also used for every day objects like pots lids.
"Face Of Hanuman Giant Monkey (Nah Hanumahn)", 1876, Thailand, Smithsonian Institute
Next we see examples of Paper Mache appear in Japan and then-Persia as trade
brought the techniques to them from China. In Japan It was often used in celebratory paper decorations and mask making. Paper mâché became a widely used practice across Asia
Around the 10th century AD, paper mache techniques made their way to Western countries where the French officially named it "papier mâché". Papier-mâché was used to create affordable ornamental decorations and wall motifs.
Materials
Over the years paper has been mixed with a variety of materials to create papier mâché. Some of these materials include:
Resin
Gelatin
Rice Flour
Mashed Potatoes
Acrylic Glue
Nowadays, most people just use a combination of water, wheat-flour, and white glue. You can learn more about found materials here. While people think of childhood crafts when they hear "paper mache", there are many contemporary artists who use papier-mâché in their gallery-quality artwork.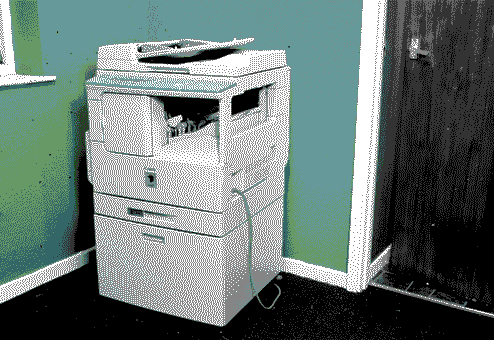 Roberto Benavidez
Roberto Benavidez, a Texas native, creates paper art in the form of intricate piñatas. He uses papier-mâché to form and mold each highly detailed and colorful sculpture. He says "there's something very forgiving about paper. You can wet it, slightly, to manually manipulate the form and once it's dry, it's rigid papier-mâché again. You can wet it to reform it." (Colossal, 26 May 2020)
Illuminated Piñata, Roberto Benavidez
Xiaoqianfeng
Xiaoqianfeng is a Chinese handicraft artist who has gained her fame on social media. She frequently uses different papier-mâché techniques to create a variety of three-dimensional forms from wonderland-like dioramas and decorations, to wearable mecha armor, to large fantasy sculptures. Xiaoqianfeng primarily uses recycled cardboard and newspaper to create her papier-mâché.