5 Artists to Follow this Hispanic Heritage Month
Happy Hispanic Heritage Month!
This month-long celebration takes place from September 15th to October 15th and honors the cultures and traditions of Americans who identify as Hispanic. It is a month full of activities recognizing the history of those whose heritage comes from Spain, Mexico, the Caribbean, Central and South America.
Hispanic Heritage Month begins on September 15th rather than the 1st of the month because it is a significant day of independence for multiple countries such as Costa Rica, El Salvador, Guatemala, Honduras and Nicaragua.
Within this 30-day period, other Hispanic countries celebrate their independence including:
Mexico on September 16th

Chile on September 18th

Dia de la Raza on October 12th
Celebrate all year long by following these talented Hispanic artists on Instagram.
1. Gleo
Painter, Muralist
Glen, "Untitled" - Archival Print, 12 x 17", 2018
Vibrant, rich colors that glow like light in saturated hues of blue-violet, orange, and green are common characteristics throughout the work of Columbian street artist Gleo. Her large-scale works are infused with themes of hopefulness and freedom. In an interview, Gleo explains, "I consider myself a person who simply paints walls, trying to believe that in this work I find a way to be free." Follow Gleo on Instagram to see her breadth of work, consisting of large wall murals that capture an intertwining between humans and nature.
Instagram: @gleo_co
2. Be Fernandez
Illustrator
Be Fernandez, "Rosalia" - Digital Print, 30 x 40 cm
Be Fernandez' presence as an artist is undeniably bold. Described as a neopop illustrator from Madrid, her work is bright, sharp, and bursting with saturated color. Her subjects often portray her interests in fashion and sneakers set in modern-retro environments. Her artist bio states, "I represent cheerful scenes with a certain Neo-Pop aesthetic that will take you back to the 80s." View more of her work and full bio on her website!
Instagram: @befernandezart
Website: befernandez.com
Visual Artist, Jewelry Designer, and Muralist
SIR, "Mother Mary" notebook
Shawnick Rodriguez (SIR) is a visual, jewelry, and mural artist inspired by her mantra, "I paint culture, so it will not die." Through the use of diverse mediums, SIR aims to connect people to parts of themselves that may be hard to reach without an artistic vessel for reflection. Elements throughout her work are directly influenced by her Puerto Rican culture. When viewing, you can be transported to different times, places, events as a way to release emotion.
Instagram: @artbysir
Website: artbysir.com
Painter, Illustrator, Muralist, Digital Artist
Miguel Almeida, "Built to Spill", 2021
Inspired by his Mexican roots, Miguel Almeida's art makes use of bold color and heavy linework commonly found in folk art. His shop carries a colorful array of art prints, collaborative work with photographers, and custom merchandise. While he keeps viewers interested with a playful spirit and composition, his work is also infused with meaning and motifs. Some of which include symbols pointing to his heritage in the form of calaveras, luchador mascaras, cacti, marigolds, and eagles with snakes in their mouths. View more of his work on social media or online!
Instagram: @miguelalmeida.art
Website: miguelalmeidaillustration.com
Painter, Muralist
Lucinda, Luchadora, Acrylic Painting, 2019
Lucinda identifies as a Xicana artist inspired by her Apache and Yaqui Descent. Her work is dedicated to bringing light and reflection to social justice issues. Chicano, Indigenous Art and Spirituality are common themes throughout her work as she encourages her viewers to consider the relationship between art and society. Art allowed her to heal, now she is driven to help others do the same. Read her full story here!
Instagram: @lamorena_art
Website:lamorenaart.com
Celebrate the Art this Hispanic Heritage Month by following these five artists, and using them as a spring board to find more to follow and support.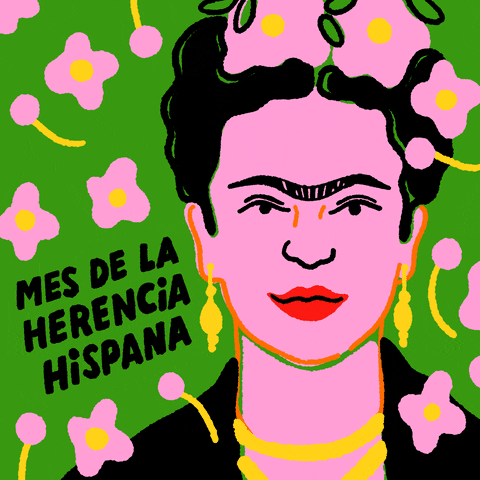 Follow us on Instagram and Facebook to stay up to date with future blog posts and events. Check out our upcoming virtual workshops as a way to explore your own creativity.
Sources:
Borge, Jonathan, and Samantha Vincenty. "Everything You Need to Know about Hispanic Heritage Month." Oprah Daily. Oprah Daily, August 15, 2022. https://www.oprahdaily.com/life/a28134135/hispanic-heritage-month/ .
Florida Atlantic University Center for Holocaust and Human Rights Education. "Honoring Hispanic Heritage Month: Resources for Teaching about the ..." Florida Atlantic University Center for Holocaust and Human Rights Education. Accessed September 14, 2022. https://www.fau.edu/artsandletters/pjhr/chhre/pdf/hh-five-things-about-hspanic-heritage-month.pdf .
"Hispanic Heritage Month." National Archives and Records Administration. National Archives and Records Administration, August 23, 2022. https://www.archives.gov/news/topics/hispanic-heritage-month .
The Library of Congress, ed. "National Hispanic American Heritage Month 2022." National Hispanic American Heritage Month 2022. The Library of Congress. Accessed September 14, 2022. https://www.hispanicheritagemonth.gov/about/ .
Gabby Gobaton is the Marketing and Arts Administration Intern with Able ARTS Work and is currently studying Graphic Design at California State University, Long Beach. This internship is sponsored by the Los Angeles County Department of Arts & Culture through their arts internship program.